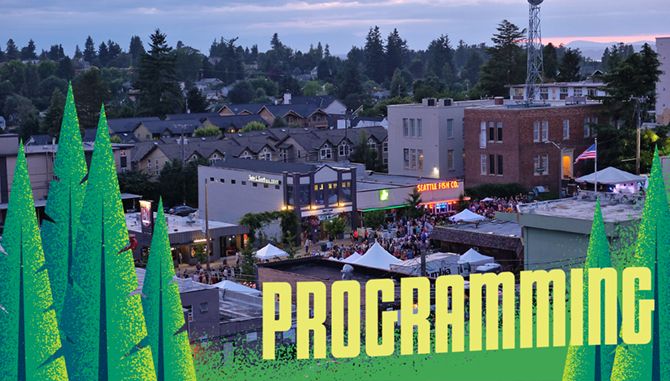 Come join us for the 40th annual (we are counting the missed years due to covid) West Seattle Summer Fest, July 15-17, 2022. Summer Fest is the biggest party of the year in our neighborhood, and it has something for everyone! Check out the special programming areas that will be featured this year!
CALIFORNIA MAIN MUSIC STAGE
In a city known for its vibrant music scene, West Seattle Summer Fest brings together some of the best local bands for two days of FREE, LIVE, OUTDOOR MUSIC. Thanks to Geico, Canna, The Beer Junction, Aegis Living and Whole Foods for their support of this free live music for all. Without our sponsors, this would be a very quiet event! View Lineup
BEER GARDEN
The West Seattle Summer Fest Beer Garden offers some of the very best PNW craft beers, as well as wine and ciders, and hard seltzers. Thanks to Sound Credit Union and Sound Painting Solutions for sponsoring our beer garden this year!
Location: Just north of Oregon near the Main Stage
Elliot Bay Brewery and Pub STAGE
Elliott Bay Brewery & Pub is excited to be celebrating its 25th Anniversary this year. We will be featuring two very talented local bands on our pop-up stage both Friday and Saturday night. Come on down and hoist a pint as we get it up on the back wheel.
Friday, July 15th – 7 pm-9 pm Urban Achievers – A tribute to The Mighty Led Zeppelin
Saturday, July 16th – 7 pm-9 pm Eldridge Gravy & The Court Supreme - Funk band Juggernaut
In addition to the mainliners on Friday and Saturday nights, we will have programming and buskers on this stage during the days.
Thanks to Westside Music Academy for sponsoring the Elliot Bay Brewery Stage and for helping book the acts during the day lineup.
Location: On California in front of Elliot Bay Brewery and Pub.
SEATTLE KRAKEN KIDS ZONE
FUN for kids of all ages! Explore a world of jumpy fun inflatables, cool arts & crafts, and games. The Kids Zone is sponsored by Seattle Kraken who will be onsite for the event offering activities.
We're releasing the Kraken in West Seattle! Head to the Seattle Kraken Kids Zone to try scoring a goal, challenge your friends to a shootout, & even have a chance at winning Kraken prizes and gifts.
Location: West side of Alaska St
COMMUNITY SEALIFE MURAL PROJECT 2022
Join Stacey Sterling Ocean Painter for a Sea life painting exploration! She will be setting up a 4' x 8' mural on the corner of California and Oregon St. during the West Seattle Summer Festival, taking place on Friday 7/15, and Saturday 7/16. She is looking for folks to help paint this amazing piece that, when finished, will be permanently on display in the West Seattle Junction for all to see. Everyone is welcome to take part- you do not need any artistic experience as she will be guiding the way, and if you do have experience or are eager to learn something new, this is for you, too.
Stacey encourages parents to come with their little ones. She will set you up with paints and brushes and you can do this fun activity together.
The painting will be about the intertidal zone of the Pacific Northwest. With that being said, not only will this be a fun painting project, but a great learning experience to find out about some of the incredible beauty in the waters around West Seattle. Our goal is to finish this piece in 2 days! With such a large working space there is room for everyone who is interested.
There are two sea-life murals in Mural Alley that were completed during West Seattle Summer Festivals 2018 and 2019 when 200 community members participated in each piece. Please stop by Stacey's booth on Friday or Saturday to sign up for a time to paint.
PET JUNCTION @ Next to Nature
Next to Nature is hosting their favorite vendors and nonprofits at Pet Junction. Pet Junction offers a host of resources to be good companions for our pets. You will find information on keeping your pet in good health, opportunities to meet local animal relief organizations and lots of fun for our furry friends.
Pet Junction vendors:
Location: On the sidewalk in front of Next to Nature
INFORMATION BOOTH
Lost kid reconnection location: Lost your kid? Found a kid? Come to the info booth! Found a grandma? Bring her to the info booth!
Connect with local groups, non-profits, and organizations doing good work in our community. Speak with their staff and volunteers to learn more about their projects and initiatives, and find out how you can help!
Pick up a festival T-shirt.
Staffed by West Seattle Blog, West Seattle Chamber, and the West Seattle Junction Association.
WEST SEATTLE FARMERS MARKET
Sunday – July 17th ONLY ∙ 10am – 2pm
The Farmers Market offers a wonderful selection of seasonal farm produce, meats, poultry, eggs, cheeses, cut flowers, ciders, preserves, and more, all direct from local farms and food artisans.
NEW location this year on California Ave SW just north of Oregon St.
FOOD & CAFE VENDORS
West Seattle Summer Fest is serving up an amazing spread of delicious summer treats sure to please any palate. Sample the festival food from numerous booths and food trucks or get a table and enjoy a meal at one of our sidewalk cafes.
Food fair vendors:
Kornman of WA
Kathmandu MomoCha
LBee's Filipino Deli
Bang Bar Thai Restaurant & Lounge
JJFROYOGO
Sweet Art
TornadoPotato/Langostino Sushi Burrito
Ray's Food
Cheers Inc
Puerto Ensenada
Kenyan Kitchen
Frelard Tamales
Recetas de Abuelita
Fast and Fresh Foods
Shug's Soda Fountain & Ice Cream
Sidewalk cafes:
The Beer Junction
Credo
Dumplings Of Fury
Shadowland
Seattle Fish Company
Talarico's Pizzeria
Cupcake Royale
Darby Winery
Lady Jaye
Elliott Bay Brewing
FAMOUS WEST SEATTLE SIDEWALK SALE
Heralding back to the time when Summer Fest was the Sidewalk Sale, the Junction merchants will be piling tables high with sales you shouldn't miss. Browse along the sidewalk to find that perfect treasure or stop in to meet service providers and say hi.
Capers
Compass
American Cancer Society Discovery Shop
ARTSWEST
Bohemian Studios
Courtesy Accounting
Doll Parts Collective
Emerald Water Anglers, LLC
Fleurt
Jet City Labs
Menashe and Sons Jewelers
NW Art & Frame
Pegasus Book Exchange
Rosefit
Rudy's
Sleepers in Seattle
Stop 'N Shop
VAIN
Wild Rose's Home
Funky Jane's Consignment
Virago Gallery